*WARNING: This post contains strong language and themes of an adult nature.*
KLONDIKE, CPA Central Headquarters – The Christmas holiday is coming and what to do than celebrate it with another Saturday Night with CPA Central post with laughs? This week, we brought you a special edition, but continue to read to find out the new special edition.
————————————————————————
This Week in News – by Ben // ThatWaryGuy
This week in news, the CPA Central's Christmas Trivia returned for this year's holiday where there will be questions counting to the 25th of December which is Christmas day, each person who wins receives 70 xats.
Today, the Christmas Chaos' first round started where the Corsairs went against the Penguin Army Force and the Kings battled against the Rebel Penguin Federation army who won the CPA Central's annual Champions Cup this year.
13yearoldnoob and Badboy, both who are former CPA Central staff members were promoted to the leader position in the Doritos of Club Penguin army. Doritos of Club Penguin's leader, Badboy, confirmed to multilogging in the Doritos of Club Penguin army.
————————————————————————
Meme of the Week – by Ben // ThatWaryGuy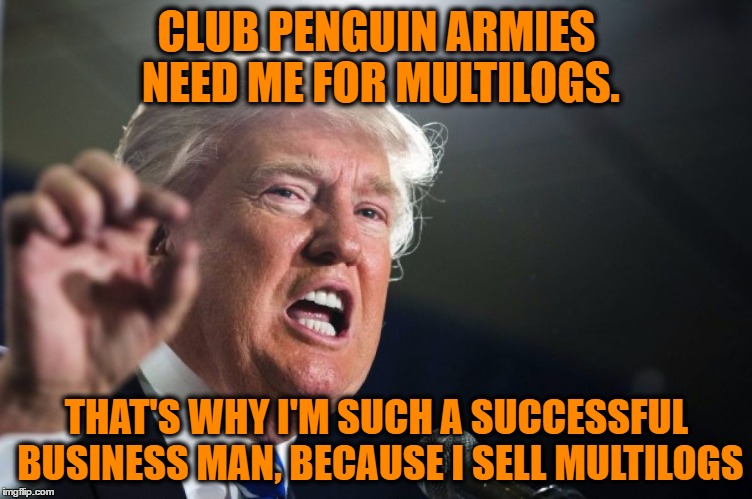 Why Club Penguin armies need Donald Trump and why he is such a successful businessman.
—————————————————————
Interview a Leader – SH
SH:Hi 13
SH:How do you feel leading dcp?
13:Feels great especially considering the entire community is well and very much alive. I feel  NR's inevitable rise to 70+ will great competition for DCP.
SH:So you know this is going on CPAC?
13:Yeah well, what's CPAC?
SH:cparmycentral.com
13:Oh, that's cool.
SH:Have you ever multi logged?
13: Has a bear ever shit on your chest?
SH:No
13:Well then, you know your answer.
SH:How come dcp let bad back in after all the multi logging?
13:Why does the entire community always seem to take the place of dumbfound kindergartners when curious about rhetorical bullshit?
SH:Big words for a 13-year-old noob.
13:Small dick for an NW legend, oops!
SH:What do your parents think about you spending your whole day on xat?
13:How do your parents react when you tell them you work for an almost dead news site?
SH:Uh (sweats)
13:Yeah, fuck you Atticus. Shout out to my homie Mustapha, OTF GANG.
SH:Who is your favorite pedo on xat?
13:Me, Myself, and I
SH:Any final comments?
13:OTF GANG REPRESENT, FREE MY MAN DOM, SHOUT OUT TO FIREGAME, RIP MAN.
—————————————————————
Puzzle of the Week – SH
gob spitting facts.
==========================================================================
Mustapha
+
=
Comment your answer below
—————————————————————
Special Edition – by Ben // ThatWaryGuy
This week, I decided to do a special edition to celebrate the Christmas holiday, if you find 4 of the Christmas presents that are hidden on pages and posts on this website then you can get 130 xats. There are 4 presents that are hidden and 1 Santa that is hidden on pages and posts. Good luck!
4 PRESENTS
1 SANTA
<><><><><>
Did you enjoy this week's edition of Saturday Night with CPA Central? Comment below your favorite bits! More upcoming sections will come! Until next week…
Ben // ThatWaryGuy
CPA Central Vice President
SH
CPA Central Writer
Filed under: Army News, CP Army News |